We may receive a commission when you use our links. Monkey Miles has partnered with CardRatings for our coverage of credit card products. Monkey Miles and CardRatings may receive a commission from card issuers. Monkey Miles is also a Senior Advisor to Bilt Rewards Opinions, reviews, analyses & recommendations are the author's alone, and have not been reviewed, endorsed or approved by any of these entities. As an Amazon Associate I earn from qualifying purchases.
---
St Regis Maldives Review – St Regis Overwater Suite
The St Regis Maldives has been on my bucket list for years now, and when it came time to book our honeymoon I knew I wanted to include it in our stay. Prior to this trip, I was already a big fan of St Regis hotels around the world, having stayed in a few around the world ( New York, Rome, Doha ) and I thought it would juxtapose nicely with the Six Senses Maldives. I thoroughly enjoyed both properties, but they are very different, as you can see in the villa photos below. St Regis has a very modern look and feel vs the rustic charm of Six Senses. You can't go wrong either way.
You won't lack a single modern amenity. From ice cold air conditioning to luxurious marble baths, the St Regis Maldives is sleek, contemporary, and offers the feel of a modern luxury hotel dropped into the Indian Ocean, atop a Maldivian atoll.
St Regis Maldives Stay Details:
When: September 2021
Where: St Regis Maldives
Marriott Status: Platinum

20% food and non-alcoholic beverages
Free Breakfast

Room: St Regis Suite
Rate Paid: 325k points with a 5th night free
Earning the Marriott points for this stay
My family has several Marriott timeshares and we can exchange them for Marriott Bonvoy points. Ordinarily we don't convert Marriott Vacation Club Points into Marriott Bonvoy since there are a lot of really great uses for MVCP within the system, but Covid created a situation where we had far more than we'd spend and converting into Marriott Bonvoy made the most sense.
Most people reading this won't be in our situation, but I wanted to be transparent on how we earned the points needed for the stay. Most people would be looking to either use points they had earned via stays, or convert Chase or Amex points into Marriott Bonvoy Points.
Populating via Amex or Chase
Throughout 2021, we saw several transfer bonuses
Amex ran a 40% bonus for a few months and is currently offering a 30% bonus
Chase ran a 50% bonus when converting Ultimate Rewards to Marriott.
So it's possible to have booked our 325k stay for 217k Chase points, or 232 Amex points.
How could you start with 0 points and buy your way here for a discount?
If you're short you can always buy them throughout the year and even merge points into a single Marriott account. The latest sale was $1250 for 155k points.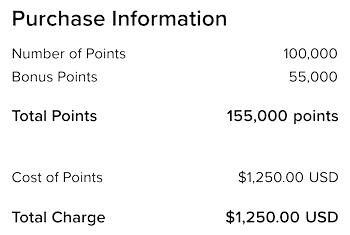 Merging points from multiple accounts:
As you can see below you can receive up to 500k points from other members. Meaning, if you were to buy 155,000 for $1250 so you could merge from you partner's account and a best friend, parent to earn the other 170k. If they didn't have any, you simply buy the 170k into their accounts and transfer them in.
Buy 155,000 points for $1250
Buy 170k split between two other accounts for $1400
Total $2650 for 5 nights – pretty awesome.
There are times throughout the year where you can book the St Regis for 280k points… $2240 with this method. Our villa was going for over $2k a night. 
Booking the St Regis Maldives
The St Regis Maldives is a category 8 property which currently ranges from 70k to 100k per night depending on if it's off-peak, standard, or peak.
All Marriott members get a 5th night free
Choosing the room you'd like
One thing that the St Regis Maldives does that isn't universally available at other Marriott properties is the ability to book higher category rooms at the time of booking with a small surcharge. Here's a look at the variance in room categories
Garden Villa: 70k
Our room St Regis Suite: 70k + $75 a night
This slideshow requires JavaScript.
You can see how the upgrade cost isn't correlated to the cash difference between rooms. For the life of me I can't understand how they arrived at $75 vs the several hundred difference if booking with cash, but I'm not complaining.
The Garden Villa vs Beach vs Overwater
Here is what the Garden Villa looks like… while it is a beautiful room featuring a private pool and outdoor shower… it could really be anywhere in the world. The marginal upgrade cost to either a beach or overwater villa ( which I would highly recommend ) is a no brainer. We were able to see the St Regis garden villa since it was where PCR tests were administered.
Garden Villa
This slideshow requires JavaScript.
Beach Villas:
I could really see the appeal of a Beach Villa, especially if being overwater isn't appealing. There is a marginal
There are also 2 bedroom villas that actually hang over water but are on the island itself
These would be ideal for couples as they require the same amount of points as a base room + $1000 for 5 nights. That's an incredible value IMO.
What kind of overwater view do you want?
This was the view we had from our villa – it looked in towards the island and we could see some of the beach villas looking back towards us
Pros:

Calmer water
Island view which feels very tropical
Drop right into to the coral for snorkeling

Cons
Some may prefer the Sunset View villas shown below. As you can see they look out over the open Ocean
Pros:

Gorgeous Sunset Views
More privacy since there are no villas looking back at you

Cons

Smaller – the St Regis villas look inward except for the panoramic villas of which there are only 3
The Ocean water can be rougher since it breaks onto your villa
How do you get to the St Regis Maldives
First you'll have to get yourself to Male, the capital of the Maldives. We ventured there by redeeming Amex points via Amex Travel for QSuites. Ordinarily, I would have utilized a transfer parter like Asia Miles ( 85k each way from the East Coast ), AA miles, or Alaska Miles; however, Amex Travel had a screaming good deal of 150k Amex Points roundtrip. Upon arrival you'll be greeted by a St Regis representative and swiftly escorted to the St Regis Lounge to relax until your seaplane transport.
Each person will pay a little over $700 roundtrip for transport
The St Regis Arrival Lounge
We were originally scheduled to spend 2 hours in the lounge, but to our surprise, we ended up getting moved onto an earlier flight. With less than 30 minutes in the lounge we still had time to enjoy coffees and even a surprise birthday cake. If you've arrived a bit tired and need a shower, there's a gorgeous shower to freshen up.
This slideshow requires JavaScript.
The Seaplane ride
One of the coolest experiences embedded in the Maldives is staying at a resort that involves a seaplane transport. Nothing quite like landing on the water and floating up to your hotel's arrival dock.
Arrival
Not a bad way to arrive lol. You can see the Iridium spa in the background which offers one of the coolest water treatment facilities I've ever seen.
You'll be greeted by your butler and escorted to a welcome pavilion where you'll be served some fresh coconut water.
Check in
You'll actually check-in in another area that, like everywhere else on the island, has unbelievably beautiful views. This is where you'll hear about your benefits, restaurants, and be given your room key, etc.
The St Regis Overwater Suite
The St Regis Overwater Suites are a jawdropping 3034 square feet, nearly 50% bigger than the standard overwater, and offer every single amenity you could want. Surround Sound? Check. Bubbling Jacuzzi plunge pool? Check. Rain Shower, soaking tub, electronic blinds, ipad controls, multiple mini bars…check, check, check, etc. Needless to say, it's one of the most impressive rooms I've ever stayed in and offers a indoor/outdoor experience with collapsible doors.
You can see all of the beach villas across the lagoon
Living Room
The Dining table, Ipad control, mini bar, coffee machine, wine fridge, and snack bar
The bottled water is free, but everything else is $$$ – additionally, the water is roughly $15+ for the same bottle on the beach. So bring it along with youy
Illy coffee pods are refreshed everyday. I think I must have gone through 6 throughout each day we were there.
The guest bath –
A welcome bottle of champagne was provided alongside and a rose shaped birthday cake
Bedroom
High ceilings, loads of light, electric sheers and black out curtains, and a King bed with a happy birthday note cut out of palm fronds. Next level.
The doors are fully collapsible meaning the entire villa, aside from next to the tub, can open up completely.
Each side of the bed has plug ins, and USB ports. There is a separate Ipad control for the bedroom as well. It allows pairing with your phone for streaming music, content to the tv, etc.
The Bathroom
Double vanity, massive soaker tub, chandelier, and rain shower. There is also a separate exit to the deck and stairs leading to the lagoon. This is a great feature if you're coming in wet and don't want to soak the living/bedroom.
The closet
Dual closets with massive center vanity. It opens up to both the bathroom and living room.
The Pool and view
The deck features 5 hammocks that hang over the water, multiple deck chairs, and a large plunge pool with jets. Everyone morning we would collapse the doors and open the entire villa up to be indoor/outdoor.
You can literally hang out over the water on one of the 5 hammocks
Dining
One of the biggest reasons to aim for Platinum status or higher prior to coming to the St Regis Maldives is the free breakfast each morning and 20% off on food resort wide ( not including alcohol ). This saved us hundreds of dollars. That may seem sensational, but its pretty easy to spend $300 a day on food, so 20% off and free breakfast adds up. For a comparison, I'd argue that the food at Six Senses was better and offered more of an experience in each setting. That isn't to bash St Regis, the food was very good, but if you're epicureous and want a resort that tailors meals via prix fixe adventures…you'll find that at Six Senses vs St Regis.
You can access of the menus here
Breakfast:
Served from 7am to 10:30am
Breakffast served next to the pool and features a buffet as well as unlimited mimosas, champagne, and hot food made to order. I'd highly suggest trying the Maldivian specialty as well as Brioche French Toast. The smoked salmon is divine and comes with 3 huge rose buds as a serving size.
This slideshow requires JavaScript.
Orientale
Great Asian Fusion with a stellar view of the Iridium spa. It's a beautiful restaurant
Cargo
Cargo is casual Indian cuisine served in the garden area of the island. Personally, I didn't find the food good enough to spend a night without a view. I can get fantastic Indian food in London without a view, so I wouldn't recommend going here unless you're really craving Indian food.
Whale Bar
This was one of our favorites. If you want sundowners, snacks, or a fine meal with a sunset view. I would HIGHLY recommend going to Whale bar 30 minutes prior to sunset. It's fantastic.
Crust:
Pizza, sandwiches, etc. Super casual, smack on the beach, and one of the cheapest dining options on the island. Hit this for a late lunch and you're good to go.
Floating Breakfast
Yes… I know this is kind of extravagant seeing as though we got free breakfast, but it was our honeymoon and my birthday. My wife surprised me with a floating breakfast and it was not only super cool, but came with Champagne and we snacked on the fruit and pastries all day which saved us a lunch as well. I won't say you should 100% do this, but if you've never had a floating breakfast, it was very memorable. It came with two different styles of eggs, granola, fruit, veggies and hummous, juices, water, and a cheese plate.
Iridium Spa
We didn't indulge on any spa treatments here aside from the comped water experience. Each of the huts is a treatment room.
I believe this is offered to all guests and something you should undoubtedly book and experience. It's a giant whirlpool fed by ocean water and has some of the most intense water canons I've ever experienced.
Water Activities
Pop by here to get your comped snorkeling equipment and schedule any excursions, scuba, etc. We did a day trip to a neighboring island to snorkel, but mainly just enjoyed the calm waters of the island lagoon, etc. Its very common to sea turtles, rays, and reef sharks all around the island. You can pop in off your villa, or come over here to enjoy the coral – it's best where the shelf drops off.
Overall:
There are so many incredible resorts in the Maldives that it's hard to say I'd be rushing back to the St Regis Maldives. Not that I didn't have an incredible stay, but would I prioritize experiencing the new Waldorf Astoria, Alila, Ritz, Le Meridien, JW Marriott, Conrad, Intercontinental, etc before heading back here? Odds are yes. And that isn't to say that the St Regis isn't an incredible place. But, it didn't have the same charm as the Six Senses had, and so if I were to revisit a property, I'd choose it over here. With that said, if you visit the St Regis, you'll experience a fantastic level of luxury, a well maintained property that offers massive villas, great food, and wonderful service.
My Maldivian Honeymoon 2022
How I planned the trip

When I booked
Selecting the flights

Qatar QSuites
Emirates First Class
Lufthansa First Class

Selecting the resorts

5 nights at the Six Senses Maldives
5 nights at the St Regis Maldives

How I earned the points

150k Amex for roundtrip QSuites
400k IHG for 5 nights at Six Senses
325k Marriott for 5 nights St Regis Maldives
122k Emirates points for Emirates First Class
107k Singapore miles for Lufthansa First Class

How I found the award space to book my tickets

Using Amex Travel for Qatar Airways Qsuites with a 35% rebate
Booking via IHG app for Six Senses
Booking via Marriott to find the cheapest rates
Finding award space on Emirates

Reviews:

Emirates First Class Review 777-300ER
Emirates First Class Review A380

What is the actual cost of staying at a 5 star resort
Affiliate Disclosure
Monkey Miles has partnered with CardRatings for our coverage of credit card products. Monkey Miles and CardRatings may receive a commission from card issuers.
---
Chase Sapphire Preferred® Card

A Monkey Miles favorite for beginners and point pros alike – a staple of our wallet that earns Premium transferrable Ultimate Rewards. $95 annual fee
♥ Earn 60k Bonus Points after $4k Spend in 3 months
♥Points are transferrable to over dozen partners, or redeemable for 1.25c in Chase travel
♥5x on travel purchased via Chase Travel and 2x on all other travel purchases, plus more.
♥3x on dining, including eligible delivery services, takeout and dining out
♥3x on select streaming
♥ 3x points on online grocery purchases (excluding Target, Walmart and wholesale clubs 
♥ $50 Annual Credit on hotel stays purchased via Ultimate Rewards. *New cardmembers can get this credit immediately – existing cardmembers get it after anniversary
♥ 10% Anniversary Point Bonus. Spend $10k in a year, get 1k bonus points.
---